Currently Reading
Cedar McLeod lives an ordinary but lonely life, raising her six-year-old daughter Eden on her own while trying to balance the demands of her career and the expectations of her mother. Everything seems normal until the day Eden opens her bedroom door and finds herself half a world away – and then goes missing. Suddenly, Cedar realizes her daughter is anything but normal.





In a desperate search for answers, Cedar tries to track down Eden's father, who mysteriously disappeared from her life before Eden was born. What she discovers is far beyond anything she could have imagined. As she joins unlikely allies in the hunt for her daughter, Cedar becomes torn between two worlds: the one she thought she knew, and one where ancient myths are real, the stakes are impossibly high, and only the deepest love will survive.
Coming up Next

Lord Nathan Valancourt is stinking rich, a darling of London's social set in 1893 and a notorious womaniser. He had never believed in the supernatural but when a vampire killer masquerading as a clergyman begins haunting his dreams and forcing him to endure visions of the murder of his previous female conquests, Nathan determines to amend his frivolous ways.
When the killer turns his attention to Nathan's beautiful ward, Juliet, Nathan is anxious to protect her. As they battle the monster, Nathan and Juliet gradually realise that they share a psychic connection. This close bond triggers the discovery of their true heritage as descendents of human-vampire unions and leads to the gradual revealing of powers beyond their imagination that offer them hope of victory.
I am going to start this in July as well, so I took my count yesterday and we'll see how it goes! I tend to read quite a bit anyway, but this will give me the push I need to get more of the books that I have fore review read. Click on the button to get more information on this.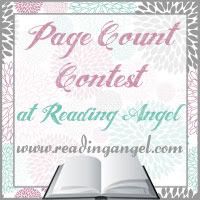 So what are you reading right now??